Hear what patients are saying...
I have always maintained an above average healthy lifestyle until I was involved in a 3 car auto accident…After the accident I was suffering from tension headaches, upper back and neck pain…I was sent to a physical therapist and he insisted on me taking anti -inflammatories…after 5 months I only felt I had corrected 10% of the pain…Within just 2 weeks of starting chiropractic care I felt a huge improvement (about 90% to be exact) especially in my neck area. I am now back to my old self.
-Brad H.
---
Dr. Andrew's work has made a big difference! I am so thankful for feeling good again!
-Bren W.
---
I have Fibromyalgia, fatigue, and am always stiff and sore all over…After starting chiropractic treatment I'm 90% better than the first day I came here… I feel my overall health is 100% better. I've learned to change my diet and get rid of some toxins in the cleaning products I use.
-Mary R.
---
My twin girls have not experienced ear infections since they started with Chiropractic First. I do not have to put ear tubes in their ears.
-Mom of Jade and Lana L.
We brought our son to your office after he had severely sprained his ankle during a football game…after some adjusting of his spine, neck, and the injured ankle, he stood up. We could immediately see the swelling around the ankle dissipate. It was AMAZING! He faithfully did the exercises that Dr. Andrew told him, iced it and within a day he was walking without crutches…because of Dr Andrew's care he was on the field the very next week.
-Roger & Kathryn R.


---
I experienced chronic low back pain for 18 years… I could not walk properly, I had sleep deprivation and could not sit at the computer… After 2 months of treatment I have been pain free, injury free for 6 months. After 8 months-cessation of lower back pain, improved flexibility and energy and I am able to perform flips and rolls associated with martial arts.
-Walt D.
---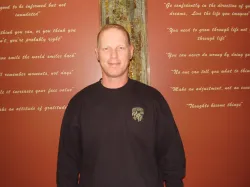 A notable difference in my feeling of wellness.
-Todd H.
---
I have two herniated cervical discs which have results in years of neck and head pain as well as muscle spasms through my shoulders. I had spent months in and out of physical therapy, practically lived on Advil for pain and spent hours on heating pads when the strain of grocery shopping, laundry or vacuuming took its toll on my body…Since beginning Chiropractic care, I have discovered a pain and drug free life! I noticed great improvement in the range of motion in my neck. I even began to ask to be adjusted where parts of my body had any pain- my ears, ankles, wrists, and knees… I am able to exercise again, and enjoy family "outings".
-Beverly L.
---
Mainly, I just wanted to achieve and maintain optimal health, I have found that my range of motion has also improved.
-Curt H.
---
My posture is much better. I don't take my sinus medication anymore. I'm much more active and happy with life. I also sleep better!
-Nancy C.
---
I sleep in a bed after 5 years of not being able to. My attitude after I get adjusted is so much better because of the lack of pain.
-Steve P.

---
An overall amazing experience.
-Erich H.

---
I had very limited activity because of the problems with my neck and back for over 18 years. And I have IBS. There were times I'd have to cancel plans with my children for the day…After 3 months of treatment I am able to move freely, my pain has disappeared and I'm able to garden and do things again with my family. I have more energy and don't need as much sleep.
-Debbie P.
---
Sometimes my knees would stiffen up or lock and make walking difficult and painful. In keeping with a maintenance treatment plan I have noticed that my knee pain is greatly reduced.
-Rebekah S.

---
Shoulder, back, knees and hips are my problem…Since beginning care I can use the stairs, I can pick up my grandchildren and put my coat on…I have a more healthy and better outlook on life…Thank God I found a caring doctor that truly cares about my health.
-Myrna K.
---
I have more energy and feel healthier over all. It has helped me perform stronger both mentally and physically in my horseback riding competitions.
-Wendy P.
---
I was having difficulty sleeping which was interfering with my daily routine, I was up at 3 am and always tired by the end of the workday.
-Michael W.
---
Love the positive attitude of Dr. Andrew and staff.
-Peggy W.
---
Since beginning treatment I sleep for longer periods, am more rested. A total improvement in the way I feel, the sleep improvement allows me to function better…I can now enjoy the evening due to better sleep.
-Ann N.
---
My son is much more in control of his emotions and has less attention issues at school
-Mother of Noah C.

---
I was suffering from severe lower back pain and was unable to move without pain. I missed work, could hardly drive a car and was constantly awakened from pain during the night…After 4 months of treatment my back pain is gone PLUS my knees and feet have much less discomfort…The range of motion in my neck has greatly improved. I can once again go for walks because the pain in my knees and feet have been GREATLY reduced.
-Frances O.

---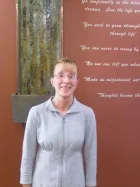 I would not give up going to Drs. Andrew and Andrea because since I have been getting adjusted my body has been in better health and I am able to do my job because I can stand up straight and I'm pain free. Drs. Andrew and Andrea treat you like you are family, they are wonderful.
-Barbara H.
---
My husband used a chiropractor from time to time for years and I suffered from persistent headaches, poor balance due to hearing loss and diminished energy level… after being in care for only three weeks I've notices improved balance and increased energy. I would ABSOLUTELY recommend chiropractic care to others.
-Joyce K.
Chiropractic First Family Wellness Center 603 E. Ridgeville Blvd.,Mt. Airy, Maryland (301) 829-4040