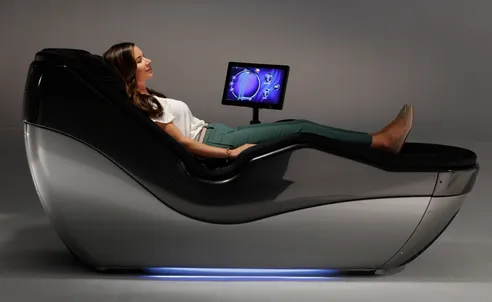 What are the Benefits of HydroMassage?
94% of all people who try massage love it.
But, only 1 in 6 people actually get massage therapy each year. HydroMassage appeals to everyone. Especially those who don't typically receive hands-on massage. HydroMassage is a comfortable, convenient, and affordable alternative to hands on massage.
Your Time is Precious, We Use it Wisely
In about 10-15 minutes you can enjoy the benefits of a relaxing massage, without the hassle of expense, inconvenience and time. You will feel reinvigorated, refreshed and relaxed. It's perfect for you if you have a busy schedule.
Less Stress, Happier Body
Stress is definitely a major factor you should consider when you evaluate an ailment or injury. HydroMassage is excellent especially with stress management techniques. It can untie physical knots, clear your head and release stress and tension that is most caused by the day to day things in your hectic, hurried life.
Convenience Keeps it Simple
During a HydroMassage session you will remain fully clothed and dry. A water-proof membrane and cover keeps your body dry, but allows the water jets to provide optimum contact to your muscles. No oils or lotions are used so there is no need to shower afterwards. You also control the pressure and travel speed of the water for your own personal comfort of a full body massage or a localized massage.
Trusted by:
Walter Reed Army Medical Center

Mayo Clinic
US Olympic Training Centers
Contact us today and ask how you can get a FREE trial on the HydroMassage Lounger! 301-829-4040